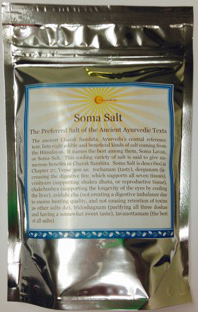 Soma Salt
Soma Salt is the preferred salt of the Ancient Ayurvedic texts.
The ancient Charak Samhita, Ayurveda's central reference text, lists eight edible and beneficial kinds of salt coming from the Himalayas. It names the best among them, Soma Lavan, or Soma Salt.
This cooling variety of salt is said to give numerous benefits in Charak Samhita. Soma Salt is described in Chapter 27, Verse 300 as:rochanam (tasty), deepanam (increasing the digestive fire, which supports all seven tissues), vrishyam (supporting shukra dhatu, or reproductive tissue), chakchushya (supporting the longevity of the eyes by cooling the liver), avidahi cha (not creating a digestive imbalance due to excess heating quality, and not causing retention of toxins as other salts do), tridoshagnam (pacifying all three doshas and having a somewhat sweet taste), lavanottamam (the best of all salts).
Soma Salt is a cooling rock salt, as the name soma suggests. In nature, soma represents the cooling, nurturing elements which are so often missing in modern life. While all salts have a hot (agni) quality, only Soma Salt has the cooling (soma) quality needed to balance it.
Soma Salt is extracted from the mountains of North West India in the historic land of Sindh. In Vaidya Mishra's Shaka Vansya Ayurvedic lineage, this salt is known as the "Queen of Salts" due to its high mineral content and its unparalleled somagenic qualities.
We take great care to purify the large, salt rocks that we receive from India using a Shaka Vansya purification technique passed down in Vaidya Mishra's family.